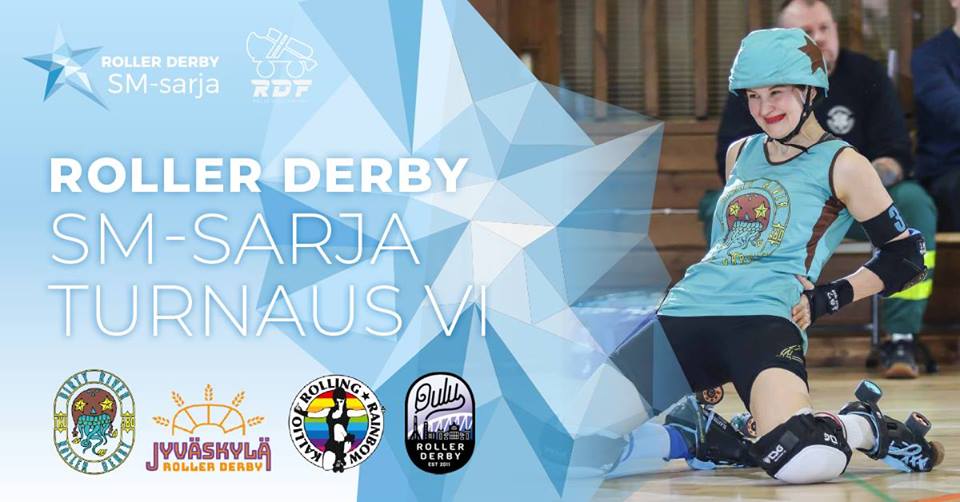 SAVE THE DATE: Roller derby in Turku on Saturday, June 8!
Turku's very own roller derby league Dirty River Roller Derby is organizing the last tournament of the 2019 Finnish championships regular season on Saturday, June 8 2019.
Dirty River Roller Derby will face Kallio Rolling Rainbow's Kinapori Fistfunkers in the first game of the day, and current Finnish Champion, Oulu Roller Derby, will play against Jyväskylä Roller Derby in the second game. Don't miss out! (The application for volunteers and officials is open, btw. 😉 Link to the post about it here )
SCHEDULE:
Saturday June 8, 2019
14:00 Dirty River Roller Derby – Kallio Rolling Rainbow Kinapori Fistfunkers
16:30 Oulu Roller Derby – Jyväskylä Roller Derby
TICKETS:
Information about ticket prices will be posted in this facebook event later.
LIVE STREAM:
The games will be live streamed by Roller Derby Finland, the link to the stream will be posted to facebook later.
ACCESSIBILITY & SAFER SPACE:
There will be a more detailed post about accessibility later on, but here are some basic details. You can request more information at any time – we'll be glad to help!
Kupittaan palloiluhalli has been defined as an accessible venue. The doors are automatic, there's a 2 cm threshold. The seating area can be accessed by a wheelchair and there is a separate viewing platform for people using a wheelchair. Accessible toilets are available. There is a tactile walking surface indicator and an induction loop at the venue. Guide dogs are (naturally) allowed at the event. A personal care assistant can attend the event free of charge.
We follow a safer space policy. Any form of discrimination, harassment, racism or LGBTIQ-phobia will not be tolerated. If you are faced with an uncomfortable situation, please contact any of the organizers. We will help and support you.