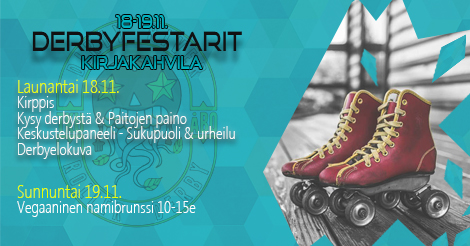 DRRD PROUDLY PRESENTS: Derby Festival at Kirjakahvila 18. and 19. November!
To bring some light to the darkness of early winter we are organizing a fantastic derby festival at Kirjakahvila. There will be all kinds of things to do! Come and find cool stuff from the flea-market, have a chat with us about derby or other things and maybe press a nice T-shirt for yourself. In addition there will be an interesting panel about gender and sports. The night ends in a derby-themed movie and legendary danceoke. Click yourself to the facebook event where you can find the more specific timetable. And take part in a raffle where you can win awesome DRRD shirts for you and a friend!
On Sunday there will be a vegan brunch of the tastiest kind. While you enjoy your food you can also enjoy the derby games being shown in the background. What's better than that?
Menu:
Bread rolls
Hummus, herb butter and margarine
Marinated beans
Pumpkin salad and tahini dressing
Cashew cream and beetroot salad
Couscous and potato salad
Seitan
Fruits
Apple pie